Order your 2023 Colorado Beagle Rescue Calendar now!
ONLY $25 each (plus shipping)
Colorado Beagle Rescue 2023 Calendars are ready to ship and waiting for your order, but hurry because quanitities are limited!
Flat Rate shipping charge of $5 per order regardless of quantity.
Pay with PayPal below or mail checks payable to Colorado Beagle Rescue to:
Kathy Pfalzgraff
6689 Fonder Villa Dr
Parker, CO 80134-3278

Donate to
Colorado Beagle Rescue with every purchase at

It's now easier than ever to support Colorado Beagle Rescue when you shop at King Soopers and City Market!
Simply enroll your King Soopers/City Market SooperCard to support Colorado Beagle Rescue.
King Soopers will donate quarterly to Colorado Beagle Rescue based on the total purchases of our supporters.
Please feel free to contact us if you have any questions.
Thank you for your continued support of all the Beagles in our care!
When you adopt a rescue dog, you save a dog's life.



BID FOR THE BEAGLES
HAS ENDED
We hope you enjoyed bidding and winning on this year's items, services and donations. Thank you for your participation.
All net proceeds benefit Colorado Beagle Rescue and is appreciated by our volunteers AND the Beagles!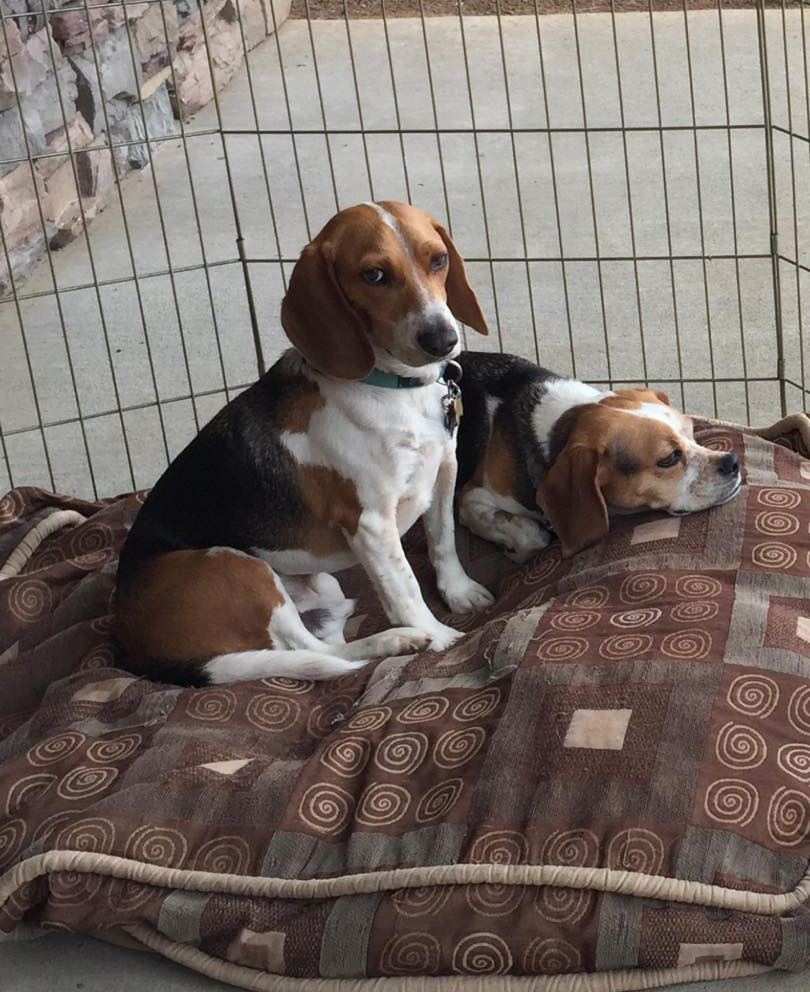 IMPORTANT ANNOUNCEMENT!
As many of you know, our beloved breed has been all over the news recently, with an astounding 4000 beagles starting to find themselves outside of a breeding facility for the first time.
The response from the public concerning the welfare and future of these dogs has been huge, and many of us wonder what will happen next for the dogs, and when. We at CBR have also been inundated with questions and offers for help. We put together a Q&A to help navigate some of the messages and requests for info, as we are a small, volunteer run group and may be delayed in getting back to messages in an urgent manner.
Q: Will CBR be getting any of the beagles?
A: Eventually we expect some of them will make their way here. Our rescue partners in Arkansas will be taking in some of the dogs first, as they have the more firsthand experience working with dogs immediately pulled from trauma situations. Once the dogs have learned how to be dogs again, they will make their way to CO where we at CBR can do our part to help them learn how to be family members.
Q: Why does it take so long? Shouldn't we be getting the dogs out NOW?
A: The best way to ensure the beagles make a successful transition to the good life is to take time to make sure the dogs are placed appropriately. All of the dogs are safe and currently in the hands of people and organizations who can manage a large scale rescue effort. Our friends in Arkansas are in closer contact, and we expect some of the beagles to make their way to Arkansas over the next few weeks.
Q: What can we do to help from Colorado?
A: The biggest hurdle ahead of us, and the thing that affects how quickly we can get dogs to us, is transport. We would desperately love to be able to fly a larger group of dogs from VA to Arkansas without having the dogs in a several-days-long ground transport mission. Funding is available for fuel, and we invite anyone with connections to a plane and a pilot to please get in touch and ask if they'd consider being part of this huge mission.
Q: If we are interested in fostering or eventually adopting, what should we know and what steps should we take?
A: At this time our assumption is that many of these dogs will have a lot of special needs. Beagles are so resilient, but what these dogs will need is time, and more time. If you are considering fostering or adopting, please get in touch and we can chat about what might be best in terms of adding a beagle to your pack. We ask all potential fosters and adopters to please seriously consider how much time and work may be involved in helping transition just one little beagle into the big scary world.
If you want to help in a big-picture way, consider eliminating just THREE products from your home that are tested on animals. There are many sources online for cruelty-free options of your favorite products and those switches help eventually eliminate the need for lab animals overall.
The more people willing to commit to fostering and/or adopting, the more beagles we can bring to Colorado.
Our rescue line is 303-464-9403. Please leave a message so a volunteer can return your call. Together, we CAN make a difference! Thank you.
Mission Statement
Colorado Beagle Rescue, Inc. (CBR) is a 501(c)(3) nonprofit, tax-exempt organization operated 100% by volunteers who are dedicated to preserving the welfare of the Beagle breed. CBR relies completely upon tax-deductible donations to support itself. Your generous donations help us cover the cost of spaying/neutering, veterinary care, food, foster placement, transportation of dogs, identification tags, and basic administrative expenses, etc.
Colorado Beagle Rescue does not discriminate and works with everyone regardless of their age, color, national origin, marital status, race, religion, gender, sexual orientation, or gender identity and/or expression.
Adoption Donations
Colorado Beagle Rescue has always had one of the lowest adoption donation amounts among our fellow rescue groups. The overwhelming costs to rescue a dog have increased over the years and we must raise our requested adoption donation amounts to help cover the increased expenses we have been facing for several years.
Effective March 6, 2017 the following Adoption donation amounts are in place:
Dogs less than 12 months old: $300
Dogs 1 - 5 years old: $250
Dogs 6 - 8 years old: $225
Dogs 9 years and older: $125

Colorado Beagle Rescue
P.O. Box 2704
Littleton, CO 80161-2704

Rescue Phone Line: 303-464-9403
(you may press # to bypass our message)

Click here to see upcoming fundraising events and how you can help! Including our incredible annual On-Line Auction!

Colorado Beagle Rescue would like to thank Goozmo, INC for maintaining our web site.
Please see their web site at Goozmo.com to start a web site for your personal or business use.