CBR Customized Wine


Colorado Beagle Rescue is pleased to announce this Collection of Beagle Reserve Wine.
Our selection of wine includes: Malbec, Carmenere, Merlot, Chardonnay, Cabernet Sauvignon and Sauvignon Blanc.
Each label features a Beagle rescued by Colorado Beagle Rescue that has been adopted into a loving forever home. Not only is this a great gift for dog lovers, but $6 from each bottle sold goes directly to Colorado Beagle Rescue!
Place your order online at www.BenefitWines.com/cbr or by mailing this Benefit Wines Order Form. Thank you for your support.
Funny "Beagley" Things!
Why You Should Get A Beagle Dog.
Episode #9
Published by Louie The Beagle
When you adopt a rescue dog, you save a dog's life.


Don't forgot to use your CBR King Soopers Card!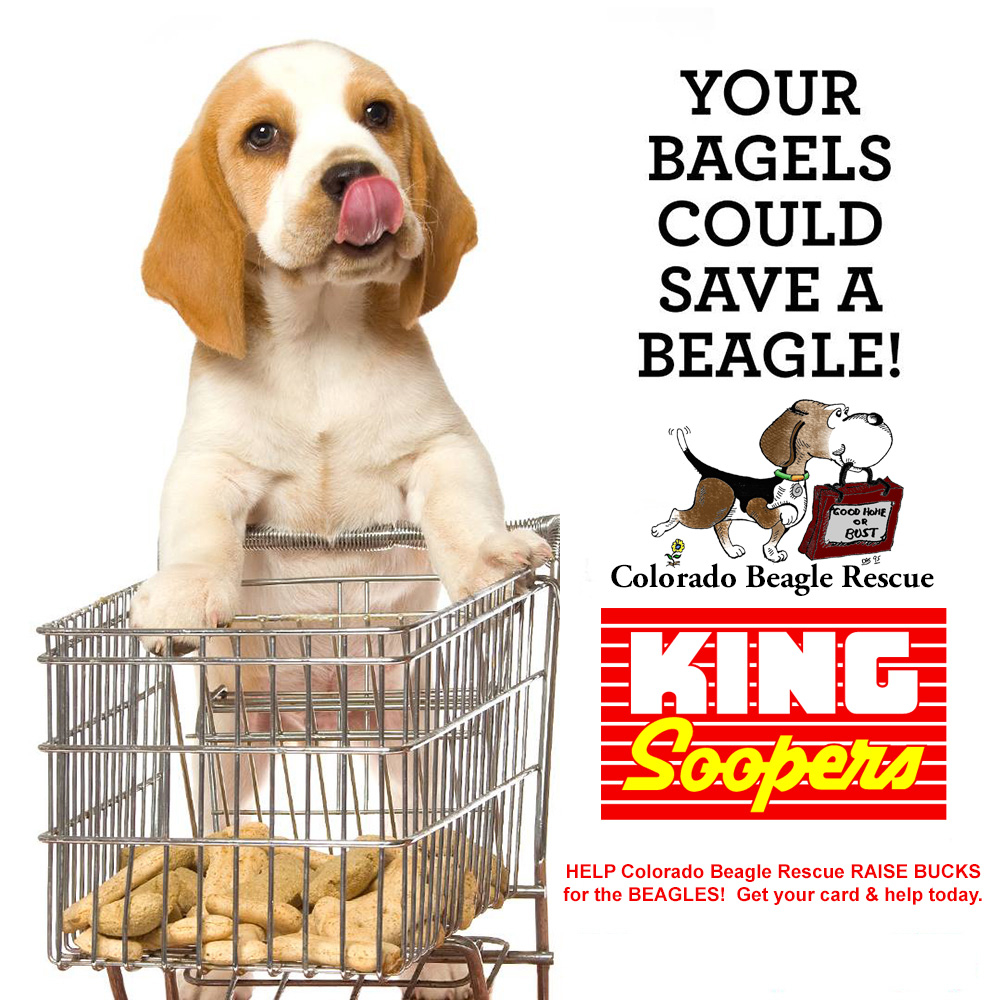 Every time you make purchases for groceries, gas, or other items at King Soopers, using your Gift Card from CBR, 5% of ALL your purchases will go to helping Colorado Beagle Rescue save more Beagles!
Click here to get your card & learn more.
FOSTER PARENTS NEEDED!


Foster parents are essential to Colorado Beagle Rescue. They save lives. The number of dogs we can rescue and make available for adoption is limited by the availability of foster homes.
Please visit our How to Foster page to learn how you can become a CBR foster parent.
CBR 2017 Annual Picnic a Big Success!
With almost 80 Beagles in attendance there was lots of activites, great food, and good times!
Click here to view pictures of the picnic.

Colorado Beagle Rescue
P.O. Box 2704
Littleton, CO 80161-2704

Rescue Phone Line: 303-464-9403
(you may press # to bypass our message)

Click here to see upcoming fundraising events and how you can help!
Mission Statement
Colorado Beagle Rescue, Inc. (CBR) is a 501(c)(3) nonprofit, tax-exempt organization operated 100% by volunteers who are dedicated to preserving the welfare of the Beagle breed. CBR relies completely upon tax-deductible donations to support itself. Your generous donations help us cover the cost of spaying/neutering, veterinary care, food, foster placement, transportation of dogs, identification tags, and basic administrative expenses, etc.
Colorado Beagle Rescue does not discriminate and works with everyone regardless of their age, color, national origin, marital status, race, religion, gender, sexual orientation, or gender identity and/or expression.
Adoption Donations
Colorado Beagle Rescue has always had one of the lowest adoption donation amounts among our fellow rescue groups. The overwhelming costs to rescue a dog have increased over the years and we must raise our requested adoption donation amounts to help cover the increased expenses we have been facing for several years.
Effective March 6, 2017 the following Adoption donation amounts are in place:
Dogs less than 12 months old: $300
Dogs 1 - 5 years old: $250
Dogs 6 - 8 years old: $225
Dogs 9 years and older: $125
Colorado Beagle Rescue would like to thank Goozmo, INC for maintaining our web site.
Please see their web site at Goozmo.com to start a web site for your personal or business use.